Shareholders
| Nominativo | % Capitale Sociale | N. azioni ordinarie |
| --- | --- | --- |
| Next Holding SpA | 27,1%% | 782.435 |
| Strategy Invest Srl | 25,8%% | 744.957 |
| CHUI S.r.l.* | 8,9%% | 257.480 |
| Mercato** | 38,2% | 1.104.028 |
| Totale Azioni | 100% | 2.832.100 |
* A company linked to the Chief Executive Officer Vincenzo Polidoro
** azioni proprie included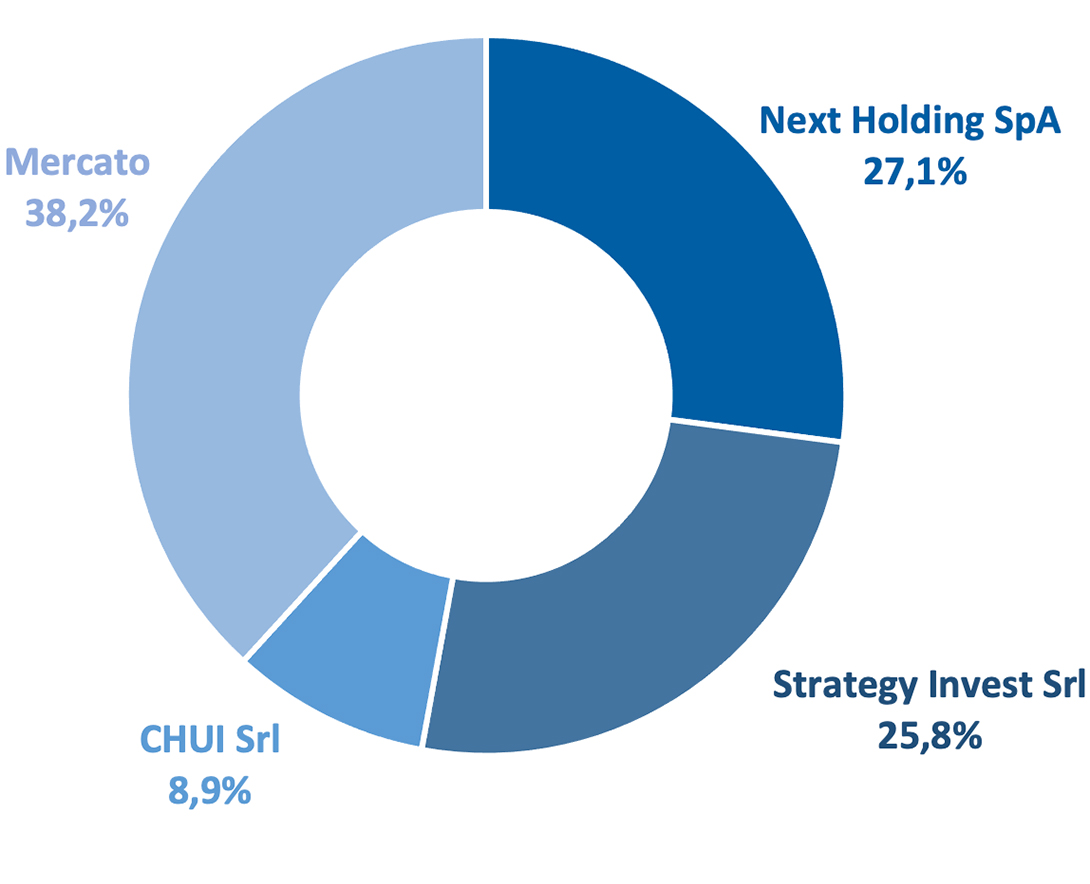 Significant Shareholders
According to AIM Italia Regulations, anyone holding at least 5% of any type of First Capital S.p.A. financial instrument is a "Significant Shareholder". Exceeding the 5% threshold and reaching or exceeding the thresholds of 5%, 10%, 15%, 20%, 25%, 30%, 35%, 40%, 50%, 66.6%, 75%, 90% and 95%, or reductions below those thresholds constitute a "Substantial Change"; Significant Shareholders must notify the First Capital S.p.A. administrative body of the change.
To ensure this, within 5 calendar days from the day on which the operation which resulted in the Substantial Change was carried out, the Significant Shareholder must notify First Capital S.p.A. of:
the identity of the Significant Shareholders involved;
the date on which First Capital S.p.A. was informed;
the date on which the Substantial Change of shares occurred;
the price, amount and type of the financial instruments involved;
the nature of the transaction;
the nature and the extent of Significant Shareholder participation in the operation.
The notification must be made using the form attached, and first be sent by e-mail to info@firstcapital.it, then the original copy must be sent by registered mail with return receipt. It must be posted to the administrative body at the registered office of the Company or via certified e-mail (firstcapitalspa@pec.it).
PDF MODULO COMUNICAZIONE AZIONISTI SIGNIFICATIVI
Download